Wotofo Profile PS Dual Mesh RDA is another design collaboration between Wotofo and Mr JustRight1.
Wotofo Profile PS Dual Mesh RDA has a different build deck for multi vaping experience but still keeps the original Profile functions.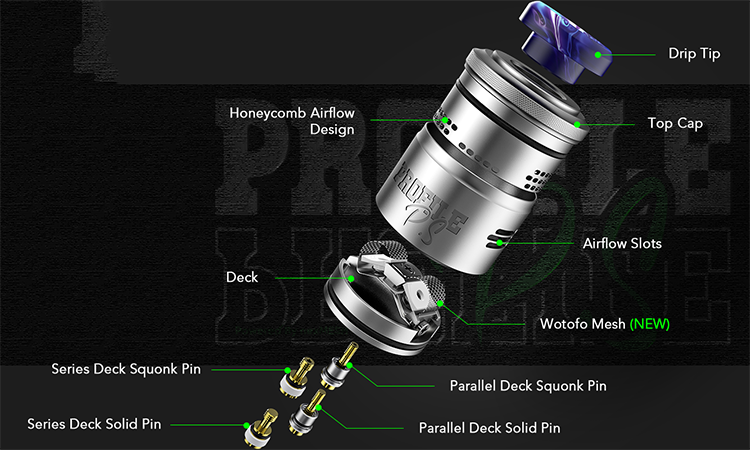 Wotofo Profile PS has a 28.5mm deck, which can build dual mesh coils. And this deck can support a Series or Parallel coil build configuration (hence the "PS" in the name).
For example, the single mesh coil is 0.3ohm, the final resistance of dual coils in parallel deck is 0.15ohm, while the final resistance of dual coils in series deck is 0.6ohm.(Parallel Deck design is basically the standard design for dual coil RDAs on the market).
How to turn the usual parallel deck into a series deck? Please look at the picture below.
1) Remove the contact pins
2) Find the converter pin in the accessory bag
3) Install the converter pin into the deck
By the way, Wotofo Profile PS Dual Mesh RDA also can be compatible with the squonk mod by the hollow BF pins. A 3ml E-Juice well capacity should also keep your cotton saturated.
Profile PS features adjustable side honeycomb airflow inlet to direct the incoming airflow over both of the mesh coils.
Parameters: 
Size: Ф28.5* 35.5mm(with 810 drip tip and 510 pin)
Material: Stainless Steel & German PEEK Insulator
Drip Tip: 810 Resin Drip Tip
Configuration: Dual Mesh in Parallel or Series
Included Mesh Resistance: 0.3ohm, 0.6ohm(series build), 0.15ohm(parallel build)
Wattage Range: 60-90W(best 75-85W)
Juice Well Capacity: 3ml
Thread: 510
What's in the package?
Wotofo Profile PS Dual Mesh RDA
Parallel Solid 510 pin (installed)
0.3ohm mesh x2
6mm thick cotton strip x2
Coil bending tool
Screwdriver
Allen key
accessory bag
User manual