Name
Geekvape Wenax S-C Pod Kit 1100mah
Geekvape Wenax K1 Pod Kit 600mah
Geekvape Wenax C1 Pod Kit 950mah
Geekvape Wenax Stylus Pod Kit 1100mah
Picture
Size
18.85* 112mm
21.6* 114.6mm
31* 86mm
19* 112mm
Material
Aluminium
Aluminium
Battery
built-in 1100mah battery
built-in 600mah battery
built-in 950mah battery
built-in 1100mah battery
Output
Auto activation-0.6ohm(14/15/16W), 1.2ohm(9/10/11W)
Firing button-0.6ohm(16W), 1.2ohm(11W)
9-16W
9-20W
Autofire: 14/15/16W (0.6ohm)
9/10/11W (1.2ohm)
Button fire: 16W(0.6ohm) /11W(1.2ohm)
Coil resistance
0.5-3Ω
0.4-3Ω
0.4-3Ω
0.5-3Ω
Low voltage warning
3.2±0.1V
Working temperature
-10-45℃
PCBA temperature alarm
80℃
Longest vaping time
10s
Standby current
<15uA
<15uA
≤15uA
<15uA
Charging
Type-C, 5V/1A
Type-C, 5V
Type-C, 5V
USB cable, 5V/1A
Capacity
2ml
2ml
3ml
2ml
Compatible
Geekvape G Series Coil
Geekvape G Series Coil
Geekvaep G Series Coil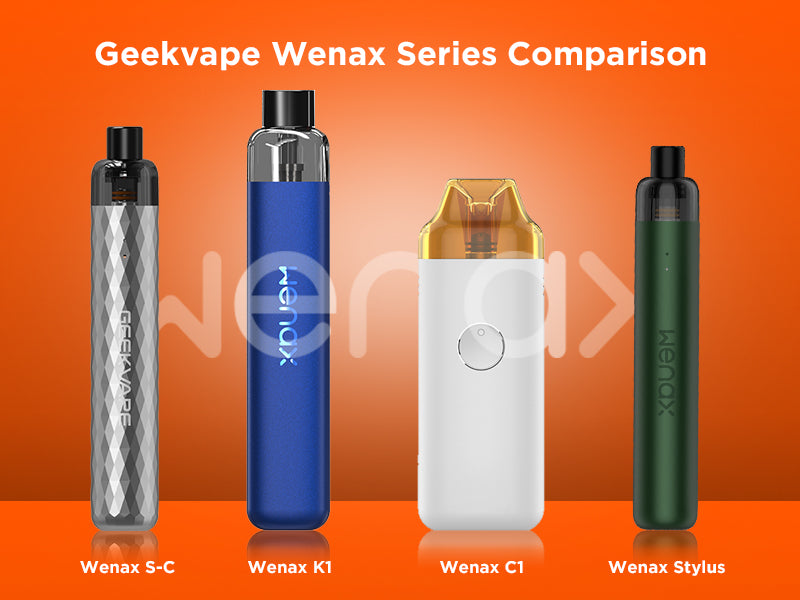 Geekvape Wenax Stylus Pod Kit 1100mah has a minimalist design that is lightweight and portable. The vape pen-style device weighs only 44g, easy to hold and carry in the hand. Geekvape Wenax Stylus adopts a unibody aluminum structure with a built-in 1100mAh rechargeable battery, smooth and rich textured. You can finish the charging via the micro USB port on the side. In addition, the Wenax Stylus features a dual method firing mechanism, using either the auto-firing mechanism or the bottom firing button. The Wenax Stylus Pod Cartridge can hold up to 2ml of your favorite e juice, vaporizing it within the integrated G Coil Pod Formula 1.2ohm/Mesh 0.6ohm coil. The G Coil Pod-Formula with a perfect leakproof tendency is made to chase the best flavor and is capable of enhancing most types of salt nic juice.  
Geekvape Wenax C1 Pod Kit 950mah is an ultra-compact starter kit, whose design is based on three key points. Ease of use, performance, and portability. It adopts an ergonomic design, the body is small, light and thin, easy to pick up, carry with you, and can be easily placed in a pocket or wallet. Wenax C1 is powered by a built-in 950mAh battery and is quickly charged with a 1A charging current through the USB-C charging port at the bottom of the device. A fully charged battery can provide up to a day of vaping. This long-lasting battery combined with a compact design makes it ideal for use on the go. On the front of the device, you will find a large circular trigger button and a three-color LED indicator integrated into it. There are two ways to start Wenax C1: Auto-draw - inhale activation, pick up Wenax C1 and vape without any press; Button - intuitive and simple. Triggered with adjustable power setting. Wenax C1 features three-level adjustable power output, which can automatically identify the installed coil and select the appropriate power, with a maximum output power of 20w.
Wenax C1 Kit comes with a transparent refillable pod with a capacity of 3ml. The built-in mouthpiece at the top of the pod provides simplicity and comfort when you go for a vape. This pod cartridge features an easy-access leakproof side-fill method. Wenax C1 comes with two updated Geekvape G series coils, a mesh coil specially designed by Kanthal wire, bringing you an immersive flavor experience. The G Coil is installed via a plug-and-play connection that's mess-free and as convenient as it gets.
Geekvape Wenax K1 Pod Kit 600mah is a new pod kit in the style of a vape pen for users of all experience levels. With super simple operation, small size, incredible tight draw, this is a top-notch little unit! The body of the Wenax K1 is comprised of anodized aluminum making it extremely light and at the same time very durable. The color schemes have a paint grade finish. Available in a range of striking monochrome colors. It has a 600mAh internal battery, lasting all day vaping time before charging, and is charged at a maximum charging rate of 1A through an upgraded USB-C port. To fire the device you can use the fire button option or you can use the auto draw. Output wise there are different output options depending on the coil installed. Wenax K1 supports 3-level adjustable power(Low, Med, High) that can automatically detect the connected coil and select the best power output option. Steady output when battery low. Wenax K1 Kit changes the included replacement pod cartridge to an internal coil style. The coil is integrated with the cartridge and cannot be replaced. According to your preferred airflow and steam performance, you can choose between a 0.8ohm pod and a 1.2ohm pod. The capacity is 2ml, through a simple filling process, and transparent pod design, providing a simple vape experience. A combination of refillable pods with a built-in coil and inhale activation makes the Wenax K1 vape kit one of the simplest kits on the market.
Geekvape Wenax S-C Pod Kit 1100mah looks like a diamond that shines under the sun, noticeable and eye-catching. It inherits its pursuit of delicacy and performance, which is innovative about its structure to prevent condensation that adopts the small liquid droplets mouthpiece. Wenax SC is available with two kinds of drip tips (sold separately), which are aimed at the MTL vaping experience and have more options according to own preference. To customize your taste and achieve a more unprecedented vapor, the pod cartridge can work along with G Series Coil. If you are passionate about the thickness cloud, you can choose the 0.6ohm coil. Paying attention to waiting for seconds to make sure your e-liquid is absolutely soaked in your coil, which can bring a more delicious flavor and have a longer lifespan. Catering to 2ml vape juice, Wenax SC supports 2 days use due to its cooperation with both vape juice capacity and battery. Additionally, it utilizes the 3-level leakage-proof technology to lock the e-liquid firmly and prevent messy vaping, avoiding the annoyance of a messy vape. Wenax SC has been widely acclaimed in that it is powered by a 1100mAh internal battery that winds up your anxiety for lasting power. Coupled with a new charge with a Type-C cable, it will keep your device in good condition by its stable charging. With its auto-activated ignition, you must admire the perception of freedom of using.